16 August 2011
A small marble statue of Hercules was found in the salvage excavations of Horvat Tarbenet in the Jezreel valley, as part of the Jezreel Valley railway re-construction project.
The Ottomans built the Hejaz railway from Haifa to Damascus, Syria, more than 100 years ago (1905). This railway linked Haifa to Turkey and Arabia until the Independence of Israel in 1948. Since then, it was dismantled and only few of the rails could be seen in Israel.
The railway is now being resurrected, and work has begun in constructing a modern railway which follows most of the original segments between Haifa and Beit She'an. The work started with excavations along the route, with many of the sites buried under or near the original track. This is a golden opportunity for the archaeologists who can now dig along the planned route.
One such ruins is the Roman/Byzantine village of Tarbenet. The site is named Khirbet Tarbana (Arabic). It is located between the city of Afula on the east, Sarid on the north, and Kefar-Baruch on the west. The dig is adjacent to the north side of the ancient tracks, at a height of 62m. A map below shows the location of the site.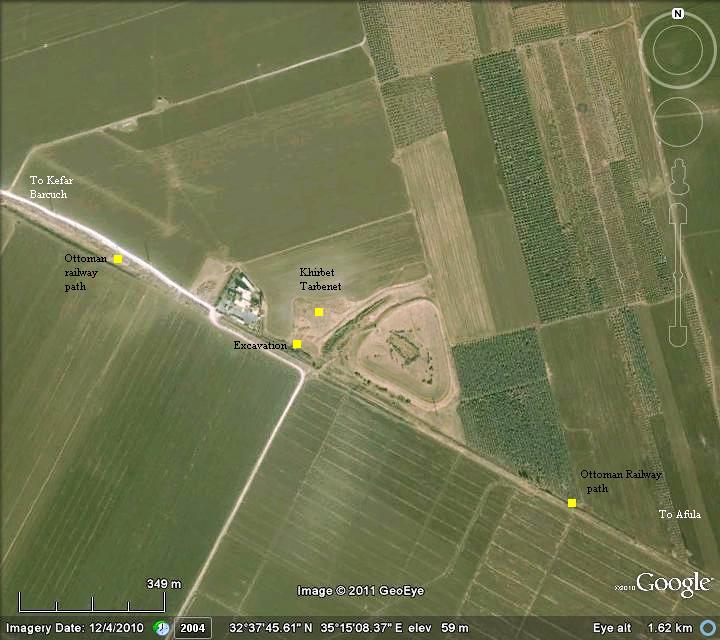 Aerial map of Kh. Tarbenet

Tarbenet is known from the Jewish Talmud, the 5th C AD books of religious practices, an extension and interpretation of the earlier texts of the Mishna (which compiled the oral traditions in about 200AD). This was a 3rd C Jewish village, one of the many villages in the Jezreel valley.
The ruins of this 2nd-6th C Roman period village include residential structures, a built well and a bath house. One of the most interesting finds in the recent salvage excavations is the finding of a small (0.5m long) statue of Hercules, made of fine white marble. It was probably standing in the 2nd C AD Roman bathhouse.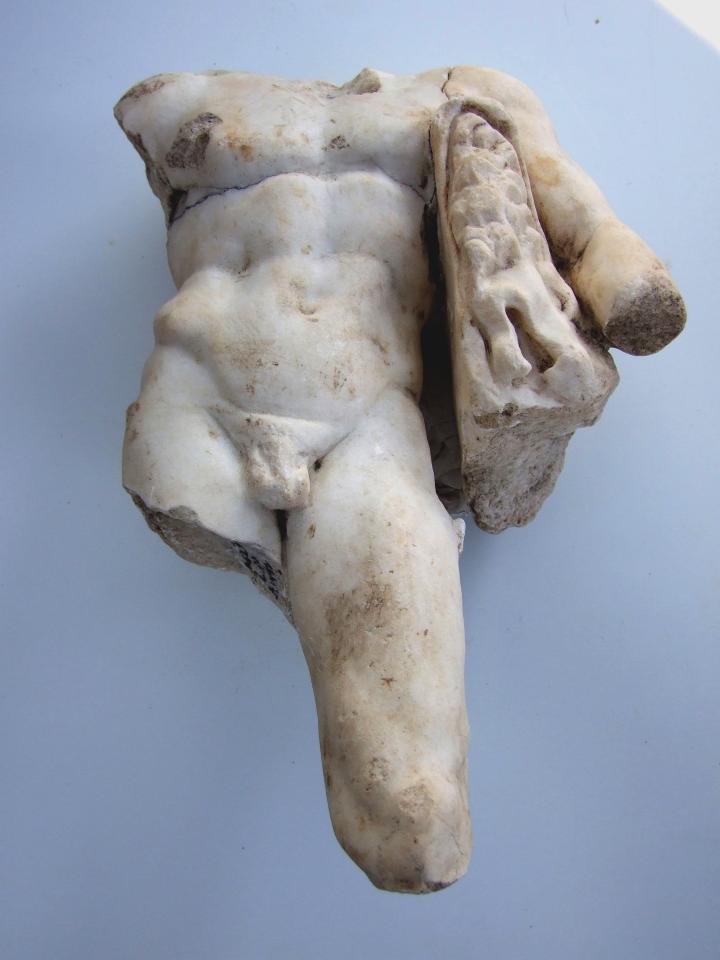 The statue of Hercules found in Kh. Tarbenet (photo courtesy of Israel Antiquities Authority)
The IAA press release reported on this finding:
According to Dr. Walid Atrash of the Israel Antiquities Authority, "This is a rare discovery. The statue, which probably stood in a niche, was part of the decoration of a bathhouse pool that was exposed during the course of the excavations. It is c. 0.5 m tall, is made of smoothed white marble and is of exceptional artistic quality. Hercules is depicted in three dimension, as a naked figure standing on a base. His bulging muscles stand out prominently, he is leaning on a club to his left, on the upper part of which hangs the skin of the Nemean lion, which according to Greek mythology Hercules slew as the first of his twelve labors".

Read more on the site of Tarbenet.
Comments are closed.